This past month I had the great honor and privilege to participate in the inaugural meeting of the Youth Diplomats program of the Gulf Coast Citizen Diplomacy Council. This was one of the greatest experiences I have had in high school. We were able to learn about cultural assimilation and got to experience this through meeting with Brazil foreign exchange students. We learned about global citizenship and how global citizenship is more than just knowing world events. It is being engaged in diplomacy, working with other nations to create a lasting impact, or just working with people from different cultures in your own country. Through this experience I have been able to meet new people, expand my knowledge of global citizenship, and learn how to make an impact not only in my city state and country but also in the world in which we live.
– Alex Smith, Youth Diplomat 2018
---
As a high school student and a new member of the Diplomacy Council, I get to interact with youth ambassadors from other countries, learn about diverse cultures, and create personal relationships with youth from different backgrounds from my own.
My first experience with the Diplomacy Council and the Brazilian ambassadors was at my first meeting as a new member. There was a group of local teenagers that met a few hours prior to being introduced to the students from Brazil. The local students and I were able to get to know each other by playing a few interactive games. After we were introduced, we went right into discussion about the program and what it means to be a youth diplomat.
Once we finished talking about our upcoming events and activities in the program, we met the group from Brazil. It turns out they had been practicing a song for their meeting with us and sang it after they gave us their names. The whole experience of seeing them being so welcoming and fun broke all of my worries about not knowing how to interact with them and it became easy to make friends and talk with the youth from Brazil. In addition, the fun didn't stop there; we had lunch with the ambassadors and played a multicultural simulation that helped us understand each other better and helped us understand how easy it is to misunderstand someone else's culture. I will never forget how surprised I was by how much miscommunication can affect people from different backgrounds. I think my first meeting as a new member of the Gulf Coast Citizen Diplomacy Council was a success and can't wait for our next upcoming meeting.
 – Francis Langevin, Youth Diplomat 2018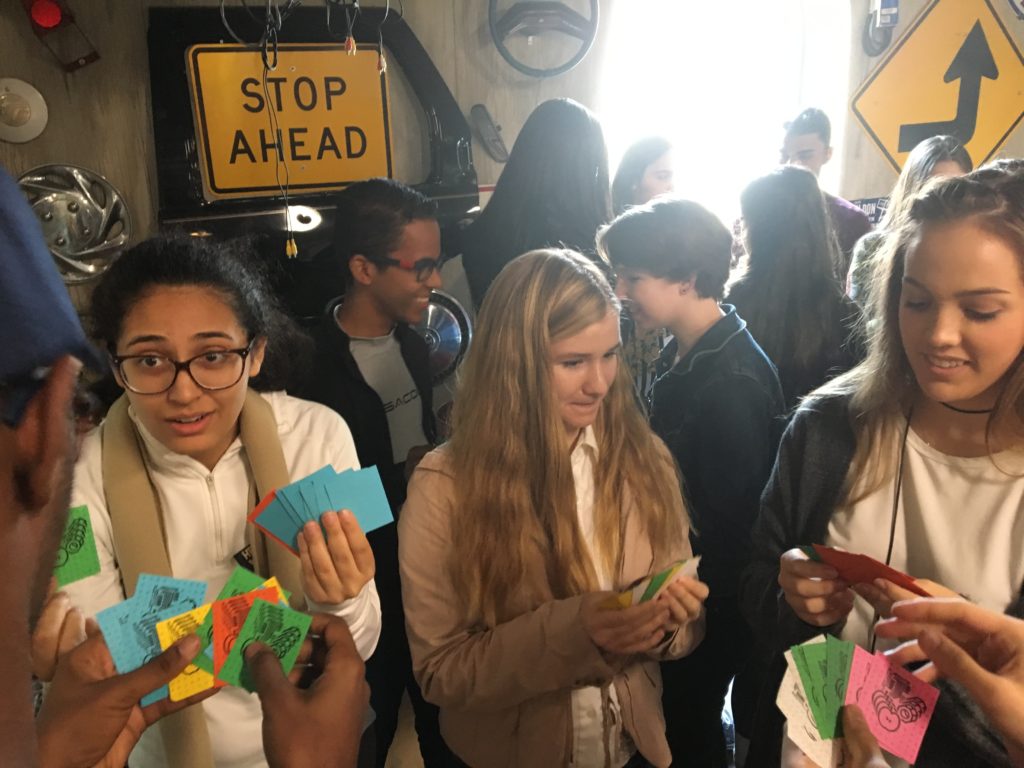 Gulf Coast Citizen Diplomacy Council Youth Diplomats
join the Youth Ambassadors of Brazil for a hands-on
cross cultural simulation game.