This summer, six visitors from Liberia, Nauru, Nepal, Nicaragua, Sierra Leone, and Singapore arrived in Pensacola as participants of Youth Inspiring Leadership and Civic Participation, an U.S. Department of State International Visitor Leadership Program (IVLP) examining the concepts of democracy, government, and citizenship as well as programs promoting youth leadership. To provide the group with the best experience possible, the local program incorporated students from AMIKids at several activities, including a Saturday morning service activity and a weekend dolphin cruise.
The start of the Pensacola project was at Pensacola City Hall where Councilwoman Sherri Myers welcomed them as honorary citizens of the city. The appointment provided an opportunity for the group to ask questions of an elected official and also gave them an area orientation.
Afterward, the visitors headed to a community coffee where adults and students met them for informal interaction and discussion. Attendees included Donovan Chau, Kent DeSantis, Leigh DeSantis, Edwin (Ted) Howard, Debbie Layton, Bob Moulton, Jeremy Ochoa, Pamela Schwartz, Sarah St. Ores, John Toole, and Larry Walker.
That afternoon, the group visited AMIkids Pensacola Day Center where they met with Jeffrey Jean‑Jacques, Julie Emmons, Reginald Robinson, and Natasha Rosado. AMIkids is a national nonprofit working with at‑risk youth. At this appointment, the visitors learned of the mission and tools of this juvenile justice program and then shared their cultures with the American teens.
The next day, the visitors arrived at Manna Food Pantries where they met Melanie Foust and Annie Gray. Manna is a local grassroots organization fighting hunger in Escambia and Santa Rosa counties. It provides groceries directly to individuals and families in need free of charge and depends on volunteers and private donations for its success. After receiving an overview of the services the organization offers, the international visitors rolled up their sleeves and contributed volunteer hours of their own.
The group also met with STRIDE (Students Taking Responsibility In Developing Excellence) for a presentation and discussion with Eric Pickett, David Hawkins, and Kendrell Bonner which highlighted the details involved in running the grassroots organization. STRIDE is a community-based 501(c)(3) mentorship program working with at‑risk middle school males.
To explore civics outreach, Escambia County Supervisor of Elections David Stafford highlighted the work of his office and provided an engaging hands-on voting activity to the visitors. The group also visited the district office of U.S. Congressman Matt Gaetz where they met District Director Dawn McArdle to gain an understanding of outreach efforts to constituents and of the role of a congressional district office.
Devoted volunteer Sharon Gincauskas welcomed the visitors and the AMIKids to the weekly Ocean Hour environmental cleanup where the local group shared its challenges, successes, and garbage bags with the international visitors and students who then pitched in with locals to make a difference along the shoreline.
Brian Estevez and Nick Simmons of 4-H, the nation's largest youth development program, engaged the IVLP participants in a discussion about leadership and service programs; and Jo McArthur of the Escambia County School District highlighted their Youth Motivator Program which pairs adults with elementary school children in weekly mentorship.
A special thank you also goes to Debbie and Mike Layton, Maria and Michael Ritz, Kasey Jones, and Jeremy Ochoa who welcomed the visitors into their homes for a meal, adding that special layer of hospitality impossible to provide through a structured itinerary alone.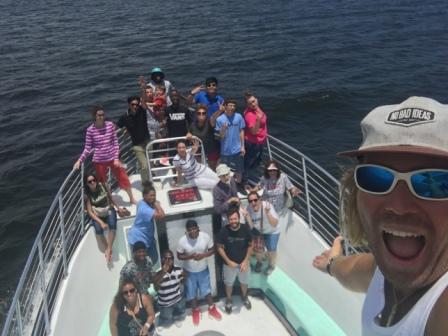 Sometimes the best citizen diplomacy takes place on the water