In May, 11 professionals from Argentina, Bolivia, Chile, Cuba, Ecuador, El Salvador, Equatorial Guinea, Guatemala, Honduras, Mexico, and Venezuela arrived in Pensacola as part of an U.S. State Department International Visitor Leadership Program, Woman Leaders: Drivers of Social Change. The goal of the project was to explore the role women leaders in politics, business, public service, and civil society play as agents of advancement.
Their exploration started at the Practical Academic Cultural Education (PACE) Center for Girls where they met Executive Director Laurie Rodgers and Ashley Donahoo, a social studies teacher. The PACE Center for Girls is a nonprofit, non‑residential delinquency prevention program targeting girls ages 12‑18. The visit highlighted programs and services for at-risk teens and gave the international visitors the opportunity to share information with students about their own countries.
Afterward, the group headed to Pensacola City Hall where they met Councilwoman Sherri Myers who welcomed them to town and exchanged perspectives on the past and present status of women's rights. A second conversation later in the day with Dr. Richard Hough, an instructor in criminology and criminal justice, and Adrienne Emerson, an assistant state attorney, focused on domestic violence issues and legislation protecting human rights.
The group also visited FAVORHouse of Northwest Florida where they met with Director of Programming Fred Sulzbach and Shelter Manager Donna Clark. FAVORHouse is a domestic abuse shelter working with both victims and abusers through a range of classes and counseling services. It runs court‑ordered education programs for parents and also promotes healthy dating habits to teenagers.
At the Institute for Woman in Politics of Northwest Florida, Founder Diane Mack discussed the challenges of women's participation in politics at the local level. A nonprofit corporation, the institute provides training resources and counseling services to promote and fulfill the vital need for women to serve at all levels of government in the Florida counties of Escambia, Santa Rosa, and Okaloosa.
One of the final discussions on the group's schedule was held at the University of West Florida where members of Common Ground explored the role of woman leaders in conflict resolution. Dawn Rockey, Dr. Doug Thompson, Roslyn Brown, Estefania Del Carmen Rondon Belmonte, and Karen Smith were some of the attendees. The Common Ground Inclusion and Diversity Training Group is a campus organization which creates spaces for dialogue on sometimes controversial topics with the aim to promote a more respectful campus community.
The group ended their time in the country with a formal final evaluation of their national project.
A hearty thank you is due to all who gave their time and energy to this group. Members Kathie Richardson and Patti Salvaggio were especially generous in helping one interpreter explore the area post-project, proving, once again, that citizen diplomacy cannot happen without the support of enthusiastic volunteers.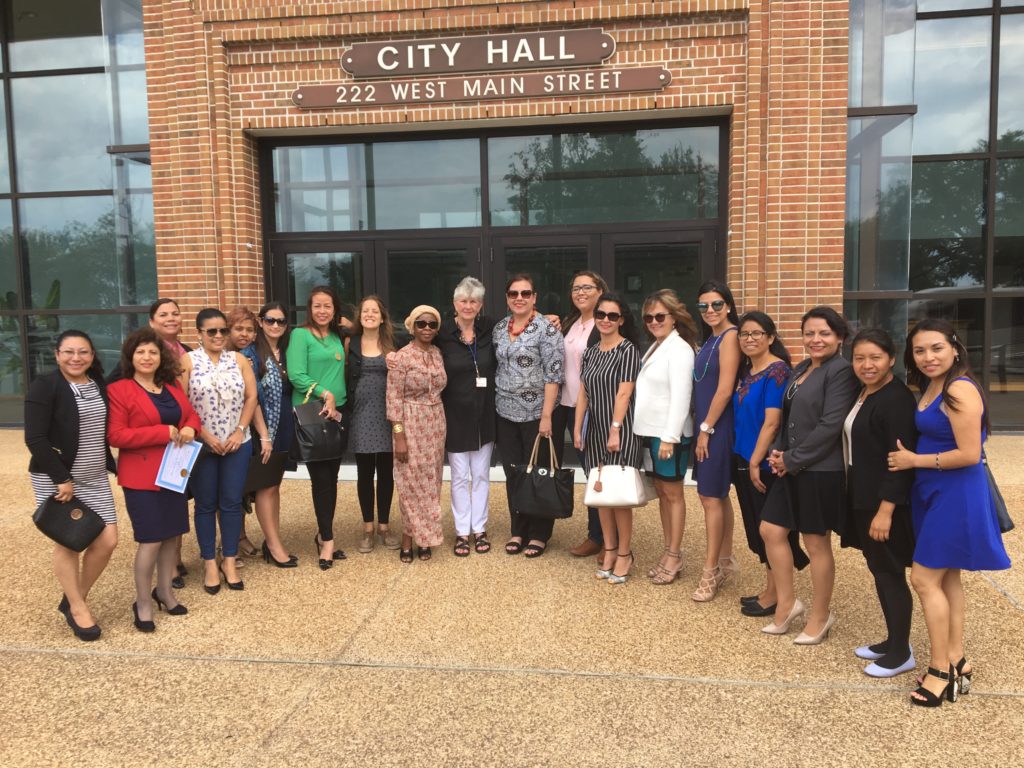 With Councilwoman Sherri Myers