In mid-March, the Gulf Coast Citizen Diplomacy Council welcomed a group of six African visitors from Angola and Sao Tome and Principe as part of a U.S. Department of State International Visitor Leadership Program (IVLP) project focusing on accountability in government. For the project, they traveled to Washington D.C., Salt Lake City, Pensacola, and Cleveland for a diverse perspective of American culture and insight into what accountable governance looks like around the country.
The group began their Pensacola program with an official welcome at City Hall. Councilman P.C. Wu hosted the group in the council chambers and shared an overview of area history and local government structure before giving his thoughts on the importance of being transparent and accountable to citizens. Afterwards, Pensacola City Attorney Lysia Bowling met the group to welcome them with some words in Portuguese (they were delighted and surprised!) and to share a welcome letter from Mayor Ashton Hayward.
To highlight how human resource policies and other internal systems of local government are accountable and transparent, Escambia County Assistant County Administrator Amy Lovoy spoke with the visitors and answered their questions.
During a visit to the First Judicial Circuit Court of Northwest Florida organized by Ana Eligio of Court Administration, Judge Linda Nobles spoke about the American court system and the checks and balances that keep it independent of other branches of government.
Gulf Breeze City Manager Edwin "Buzz" Eddy hosted the visitors at Gulf Breeze City Hall for a discussion of a creative program that the city developed to actively engage young people in better understanding their local government. He described the Youth in Government Symposium that allows students to delve into how the city is operated, meet with staff and elected officials, and complete a project focusing on one aspect of city management.
Time spent at the Better Business Bureau of Northwest Florida shifted focus to turn to the importance in American society of a culture of accountability among businesses. President and CEO Norman Wright, Operations Manager Mary Gallaher, and Communications Director Tammy Ward met with the visitors to explain the mission of their organization.
To discuss women's participation in the political process, the group had two meetings. First, Diane Mack, a former Pensacola city councilwoman and the founder of the Institute for Women in Politics of Northwest Florida, spoke with the visitors about her perspective on challenges for women to run for and win election to local political office. She also highlighted the non-partisan work of the institute which provides workshops and training to women interested in running for office.
The group next met with former city councilwoman Maren DeWeese to discuss her experiences and challenges in campaigning for public office and serving as a city councilmember.
One of the group's final sessions in Pensacola was a leadership development workshop hosted and led by Gulf Breeze Chamber of Commerce President and CEO Kristen Loera and Gulf Coast Citizen Diplomacy Council Board Chair Karen Jurkowich. They worked with the visitors to determine effective strategies that will help them to enhance their leadership capacity in their fields.
During their time in town, the African IVLP visitors experienced local hospitality when members of the Gulf Coast Citizen Diplomacy Council invited them to meals in their homes.  Hosts were Mike and Karen Jurkowich and Liz and Basil Yelverton.
The visitors also got in some cultural fun when they observed dolphins in their natural habitat during a boat cruise in Pensacola Bay.
We would like to thank everyone who contributed their time and energy into making this project a success and another win for citizen diplomacy in northwest Florida!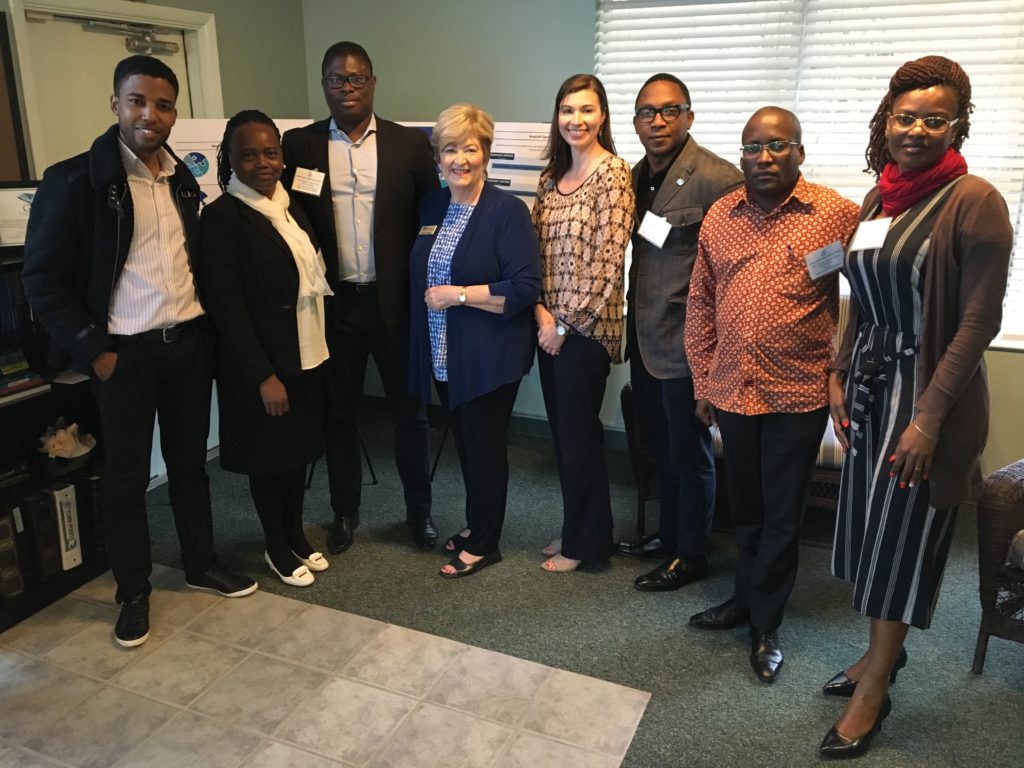 At Gulf Breeze Chamber of Commerce