The 2017 Youth Ambassadors Brazil exchange brought a group of 10 teens and one adult mentor from all across Brazil to Pensacola for 12 days in January. Their time here illustrates how ours is a generous, passionate community which continually steps up to support the concept of citizen diplomacy and the power it has to improve the world one handshake at a time.
The exchange focused on the themes of community volunteerism, youth leadership and civics, and social justice. The participants engaged in a range of discussions, workshops, and activities that brought these topics to life and gave them a deeper understanding of American culture.
After arriving in Pensacola, the group had an area orientation and a quick review of their schedule before meeting their host families for the first time. Then, it was time to get started!
Pensacola Councilwoman Sherri Myers welcomed them to City Hall and spoke about social justice. She shared her lifelong work in fighting for the civil rights of minorities, including women and people with disabilities, before presenting the group with certificates of honorary citizenship to the city.
At Arc Gateway, Executive Director Missy Rogers gave a tour and explained how the organization promotes inclusivity by working with community members with developmental disabilities. The Brazilians especially enjoyed meeting program participants and volunteering with them during a joint art project.
The teens next discovered how a local organization serves people with HIV/AIDS, some of the most vulnerable and marginalized members of society. During their time at Appetite 4 Life, Operations Director Marcus Ditty answered their practical questions about the program and explained to them the importance that teamwork and volunteerism play in the operations of a small nonprofit.
While looking at issues of tolerance and discrimination, the Brazilian youth met with Gay Grassroots of Northwest Florida's President Louis Cooper and Co-Founder Donna Stough for a discussion on LGBT rights in the United States. They met with Dr. Eurydice Stanley for a presentation on historical discrimination against the African American community and on ways to encourage diversity and tolerance within an organizational structure. They then spent time with the University of West Florida (UWF) Common Ground Diversity and Training group where Dr. Lusharon Wiley facilitated a discussion about promoting mutual understanding and respect in a diverse setting which was attended by UWF students, faculty, and Pensacola community members including Dr. Gloria Horning, Dawn Rockey, Grace McCaffery of La Costa Latina, President of the local NAACP chapter Rodney Jones, and NewsRadio 1620's Wendi Summers.
The Brazilians also delved into present-day social justice issues, including community policing, during a visit to the Pensacola Police Department where Sgt. Jimmy Donohoe led them on a tour and discussion. This was followed with an overview and discussion with Rick Outzen, publisher of the IN Weekly, about what has been termed the school to prison pipeline.
Several appointments highlighted the theme of community volunteerism, and the Brazilians experienced this first-hand on many occasions. During a visit to Ronald McDonald House Charities of Northwest Florida, for example, Event Manager Lauren Stimell led the students on a tour of the facility before assigning them two volunteer activities, making gift bags for children staying at Ronald McDonald House and taking on some of the daily chores of the house to give families staying there a break. Later, they volunteered with UWF International Programs to bring the fun and culture of the Lunar New Year to children attending gallery night, and at Manna Food Pantries they sorted food for distribution to the needy. Staff at Big Brothers Big Sisters of Northwest Florida spoke about another form of community volunteerism, mentoring, while First Tee of Northwest Florida Executive Director Marty Stanovich and his team of volunteer coaches highlighted their organization's mission of bringing the game of golf and its values to young people during a session that included a golf clinic for the Brazilians.
Another major focus of the Youth Ambassadors Brazil program in Pensacola was youth leadership and civics. The group experienced U.S. civics history when they joined Creative Learning Academy Social Studies teacher Haley Richards and her middle school students to watch the presidential inauguration live. Afterwards, the students got to know each other over lunch.
The Brazilians also shadowed students at Gulf Breeze High School for the better part of a school day. Spanish teacher Mary Montcalm arranged the experience which included opportunities for the Brazilians to share their culture with different classes around the school and a classroom discussion with the Gulf Breeze High School Student Government Association.
During several workshops led by the Gulf Coast Citizen Diplomacy Council, participants focused on public speaking as a tool to share their message and communicate effectively. The culmination of these workshops was a visit to Escambia Boys Base where Director of Operations William Freeman arranged for them to meet the young men in the residential restorative justice program and to give presentations on Brazilian culture.
In addition to voting, citizens have the ability to affect positive change through active engagement with elected officials and local government. That was the takeaway from a student-led city council simulation where participants took on the roles of elected officials and community groups to debate and vote on an ordinance that would impose curfews on teenagers. Thank you to former City Councilwoman Maren DeWeese for facilitating this simulation and leading students in discussion on the importance of citizens making their voices heard by their local government.
This year's Youth Ambassadors Brazil program also included opportunities for the group's adult mentor to have separate meetings focusing on different ways of working with youth. She met with Supervisor of Elections David Stafford to hear about the importance of voting and his work in schools promoting civics education. She also met with Gulf Breeze High School Assistant Principal Sean Tomey and several staff members in the guidance department to discuss youth counseling.
The Gulf Coast Citizen Diplomacy Council thanks everyone who contributed their time and energy to meeting with our Brazilian Youth Ambassadors and ensuring that this project was a success.
Special recognition is due to the wonderful host families who opened their homes to these young people during their time in the United States: Leigh and Kent DeSantis, Kim Do, Julie Tippins Parker, JoAnn and Kenneth Roberts, Jeannine Van Reeth, Bill and Linda Wade, and Enid and Sam Wilson.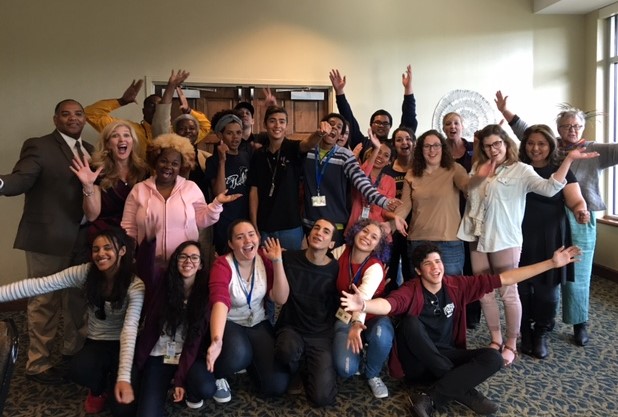 With Common Ground at the University of West Florida