I was pleasantly surprised to be chosen to attend the Global Ties U.S. National Meeting. As a first-time attendee, I wasn't sure what to expect, but with my involvement with the young professional's committee of the Gulf Coast Citizen Diplomacy Council, I was excited to learn more about international exchange and foreign relations.
I arrived in D.C. on Tuesday evening and was greeted by pleasant 65-degree weather. Of course, overnight, the weather turned and it was a stark 22 degrees Fahrenheit the next morning with a high of 36. Thankfully, the conference was right downstairs in the host hotel so we Floridians didn't have to brave the elements.
Day 1 began with an opening plenary breakfast session where we heard from Jennifer Clinton, president of Global Ties U.S., and Mark Taplin, the acting assistant secretary of state for the Bureau of Educational and Cultural Affairs, U.S. Department of State. Clinton and Taplin emphasized the 2017 theme of Unity in Community. Along with a brand-new administration in the White House comes uncertainty, and the planning committee chose this theme knowing from president to president, unity in the global community will survive.
Taplin reminded attendees the International Visitor Leadership Program (IVLP) has survived almost half a century and has enjoyed bi-partisan support under eleven different presidents, demonstrating the fact that this public-private partnership has and will continue to withstand the test of time. He closed the session by emphasizing what truly makes the program is what happens in our communities. The Global Ties network, which includes other community based member organizations like the Gulf Coast Citizen Diplomacy Council and its volunteers, brings a certain authenticity due to the relationships and educational opportunities fostered through homestays, picnics, dinners, coffees, etc. These interactions are what promote unity of purpose in a global community.
As the program continued, attendees were afforded several opportunities to attend various panel sessions on a wide range of topics. As a native of Zambia, I was particularly interested in a U.S. Department of State regional briefing on Sub-Saharan Africa. I listened as representatives of the State Department provided an overview of current and emerging U.S. policy priorities in Sub-Saharan Africa – a region hardly covered in the Western media but of immense importance to U.S.-Africa relations. The U.S. recognizes a tremendous opportunity with the younger African demographic where 70% of the population is under the age of 25. It was fascinating to learn about the importance of U.S.-Africa relations, particularly given the current and projected demographics.
The IVLP offers unique and enriching moments for visitors. This sentiment was in full display when Global Ties U.S. awarded Rebecca Gyumi, Founder and Executive Director of the Msichana Initiative, with the inaugural IVLP Alumni Award for innovation and social change.  Gyumi, a lawyer, was recognized for her work to upend a Tanzanian law permitting marriage for children under the age of 18. It was truly incredible to hear her story, and she credited her participation in the IVLP as a major factor in her drive to pursue what seemed to be an insurmountable task. Specifically, she recalled her experience in Santa Fe, New Mexico as life-changing.
I was honored to attend the Global Ties U.S. National Meeting. I met many wonderful people who do incredible work related to foreign relations across the U.S. and beyond. I was proud to represent Pensacola and the Gulf Coast Citizen Diplomacy Council, and I left feeling inspired and ready to further the mission of citizen diplomacy within our community. I hope you will join me!
Mambwe Mutanuka is the Corporate Director of Contracting at Baptist Health Care in Pensacola and is a member of the Young Professionals of the Gulf Coast Citizen Diplomacy Council.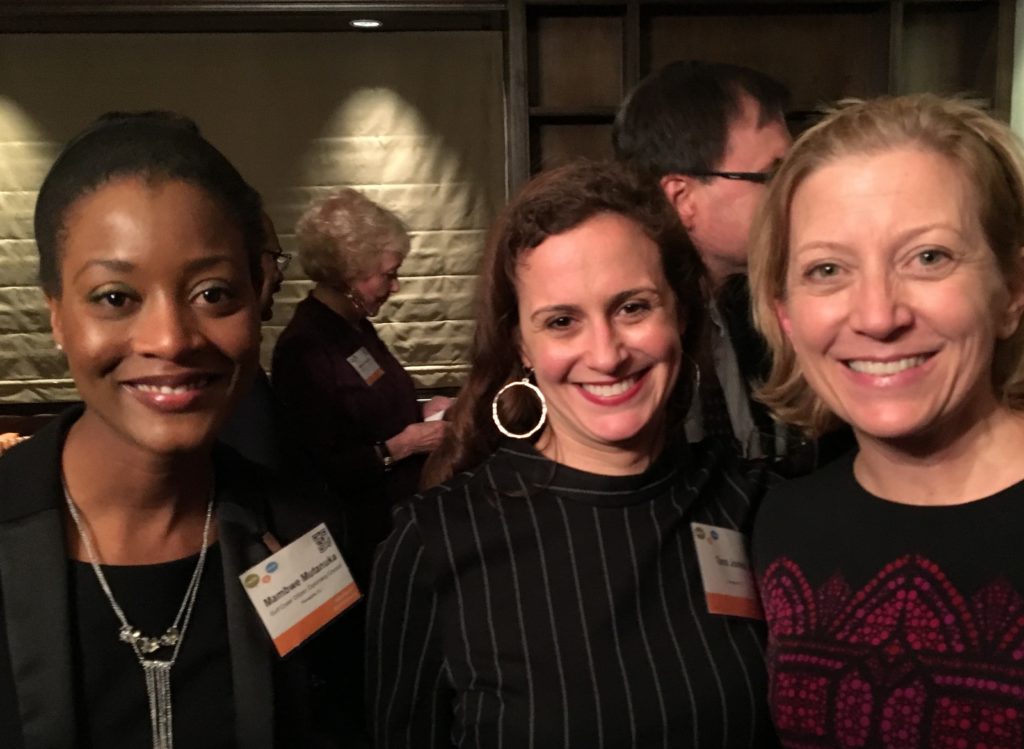 (l-r) Mambwe, board member Tara Jones, and a friend of the council attend an evening reception at the residence of the South African charge d'affaires in Washington, D.C.