In early February, the Gulf Coast Citizen Diplomacy Council hosted seven international visitors from Australia, Cyprus, Israel, Kenya, Morocco, Nepal, and Nigeria as part of an International Visitor Leadership Program (IVLP) exchange titled "Education and Activism for Young Women." These visitors came to Pensacola to meet with women leaders in the community and representatives of local organizations working to promote women's rights.
The group's first meeting was at Pensacola City Hall where Councilwoman Sherri Myers welcomed them and shared her background of fighting for women's rights and civil rights. After the discussion, she presented the group with certificates of honorary citizenship with the city.
The group next joined the staff and volunteers of First United Methodist Church's Serving the Hungry to prepare and serve hot lunches to the needy. Volunteer Coordinator Katie Ramsey led this activity which gave the group insight into the culture of volunteerism in the United States.
The visitors delved into women's rights during a classroom visit and discussion with University of West Florida Associate Professor Kathy Romack and her Feminist Theory students while time with Diane Mack of the Institute for Women in Politics of Northwest Florida highlighted women's political leadership opportunities. Ellen Roston, Mary Collins, Janet deLorge, and Ray Hudkins of the League of Women Voters of the Pensacola Bay Area next shared their work promoting accountable governance, voter education, and promoting women's rights.
To address support for women's economic empowerment, the IVLP group visited Community Enterprise Investments where Director of Lending Percy Goodman spoke about the organization's small business loan program which has helped many overcome the financial hurdles necessary to start businesses.
During time spent at PACE Center for Girls, visitors met with students for cultural sharing and Q&A while also learning about the center's educational and motivational programs for at-risk teen girls. Executive Director Laurie Rodgers and Teacher Ashley Donahoo coordinated this visit.
The focus shifted to leadership opportunities for young people when the group visited Escambia High School for a meeting with the Student Government Association, ROTC, and the BETA club. Dean Jewel Cannada-Wynn organized and facilitated this discussion-based Q&A session between the IVLP visitors and students.
In addition to their professional appointments, the IVLP visitors had several informal opportunities to meet and network with Pensacola locals. During a community coffee discussion held at Seville Quarter, locals Sue Brye, Chloe Diehl, Christy Draper, Brendalee Johnson, Elizabeth King, Roxolana Slobodian, and Jeannine Van Reeth engaged visitors in conversation and fellowship. The group also enjoyed an evening networking event with members of the Gulf Coast Citizen Diplomacy Council Young Professionals Program and Gulf Coast Citizen Diplomacy Council members Leigh and Kent DeSantis, Kathie Richardson, and Mike and Debbie Layton contributed by offering gracious hospitality with dinners in their homes.
The Gulf Coast Citizen Diplomacy Council thanks all who contributed their time and energy toward the success of this project, and a special thank you goes to Patricia McGraw, our wonderful facilitator who accompanied the visitors to their meetings.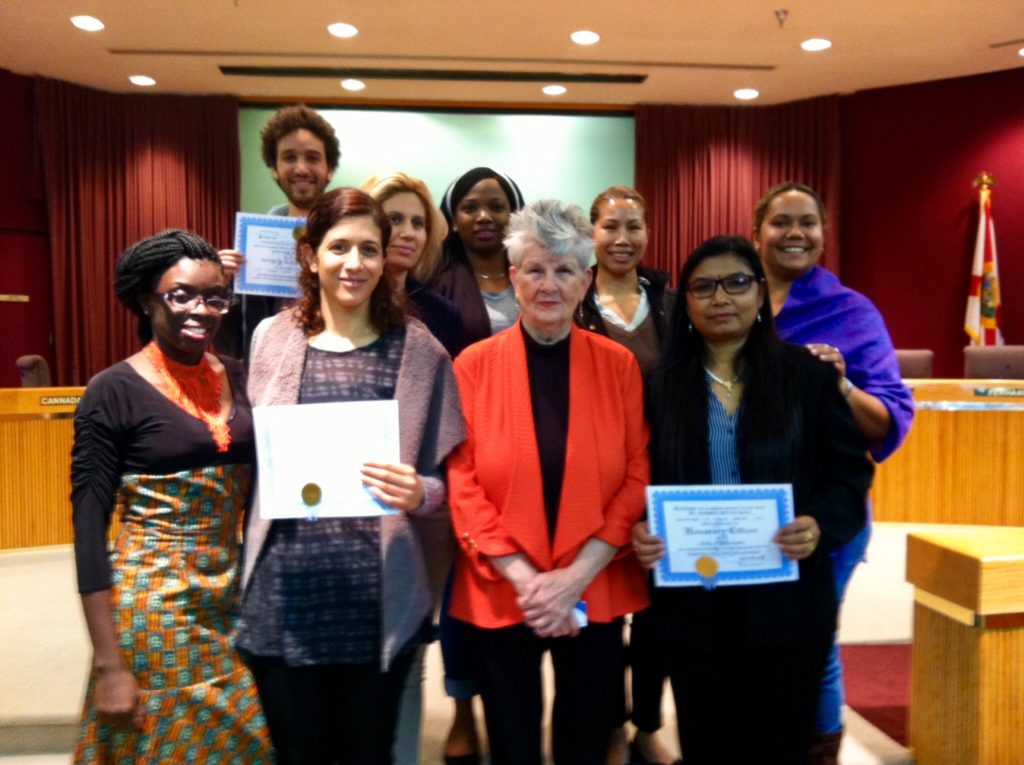 Pensacola's newest honorary citizens