In early December, the Gulf Coast Citizen Diplomacy Council welcomed a group of 14 professionals participating in an International Visitors Leadership Program (IVLP) project looking at the topic "Women Leaders: Promoting Peace and Security."
The participants were all leaders in their communities working on issues including domestic violence, human rights, and security. They came from the following countries: Bolivia, Chile, Dominican Republic, Guatemala, Honduras, Mexico, Nicaragua, and Venezuela.
After arriving on a Sunday evening, the visitors kicked off their two-day professional program in Pensacola with a Monday morning visit to Pensacola City Hall where Councilwoman Sherri Myers welcomed them and shared some history of the area as well as insight into how the city council operates. She then spoke about the history of women's rights in America and her background fighting for women's rights and civil rights in the American South. The visitors were delighted by the councilwoman's surprise at the end of the meeting – certificates of honorary citizenship to the City of Pensacola signed by Mayor Ashton Hayward.
A discussion with Dr. Kimberly McCorkle of the University of West Florida covered the topic of women's rights in America within the context of domestic violence and intimate partner homicide. The Latin American women were impressed by the depth of Dr. McCorkle's knowledge and had quite a few questions for her.
The IVLP visitors further examined domestic violence issues during a discussion and tour with FavorHouse of Northwest Florida. First, Director of Programming Fred Sulzbach and Director of Residential Programs Marsha Travis spoke about their programs for both victims and aggressors. Then, the group visited and toured the FavorHouse shelter.
During a discussion on immigration and refugee issues with representatives of Catholic Charities of Northwest Florida and Pensacola State College, the leaders delved into the topics of human rights and integration efforts. President and CEO of Catholic Charities of Northwest Florida Christopher Root was joined by Josefina Devito, program director of Immigration and Refugee Services, and Maria Roswold, program coordinator for the Refugee Immigration Program, to share their refugee resettlement services. Director of Pensacola State College's Adult Basic Education program, Kathy Vandyck, spoke to the group about the English for Speakers of Other Languages (ESOL) courses that she manages for newly arrived immigrants and refugees.
The IVLP group also visited PACE Center for Girls to hear about their educational program for at-risk teen girls. Teacher Ashley Donahoo and Executive Director Laurie Rodgers spoke about PACE's programs before introducing them to a group of students who shared their stories and asked the group questions about life in their own countries.
Despite their busy schedule, the IVLP visitors also had some time for fun. They met with young locals involved with the Gulf Coast Citizen Diplomacy Council Young Professionals Program, enjoying an informal networking experience in downtown Pensacola; and they wrapped up their time with an afternoon dolphin cruise on Pensacola Bay.
Thank you to everyone who contributed time and expertise to ensuring the success of this exchange. You are proving the impact of citizen diplomacy one handshake at a time.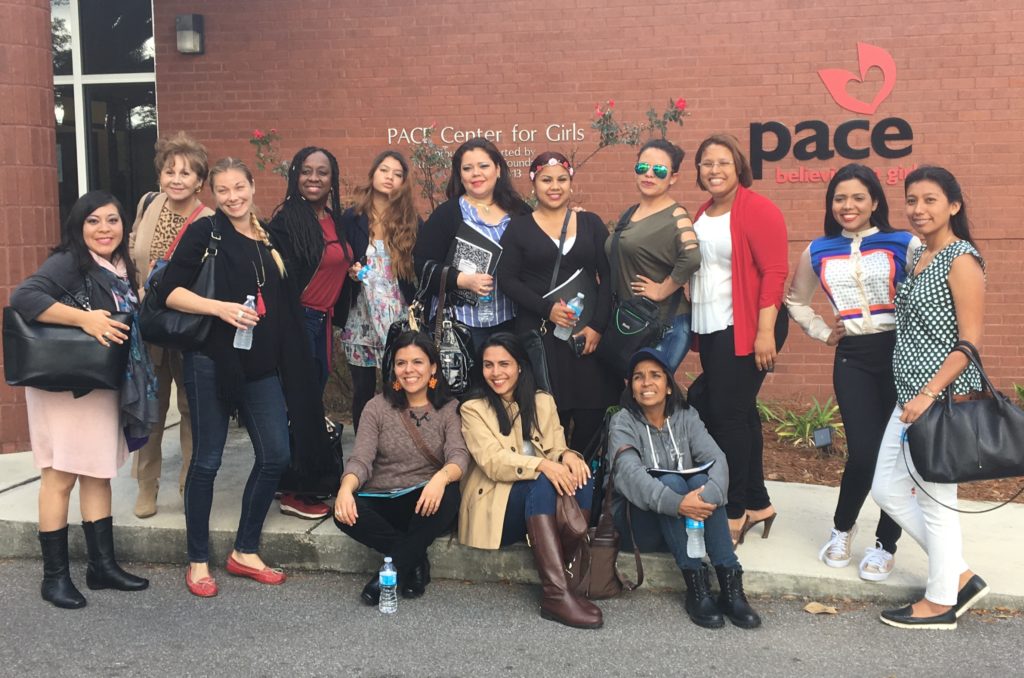 After an inspiring meeting at the PACE Center for Girls