In early October the Gulf Coast Citizen Diplomacy Council welcomed a group of 17 international visitors from across Latin America as part of an International Visitor Leadership Program (IVLP) project examining the topic of grassroots democracy and civil society.
The group began their time in Pensacola with a visit to City Hall where Councilman Charles Bare welcomed them and gave an orientation to the area's history, demographics, and local form of government. The IVLP visitors were surprised and delighted when he presented them with certificates of honorary citizenship to the city at the conclusion of the meeting.
To examine the democratic process, the visitors also met with Supervisor of Elections David Stafford who spoke about voter registration and how the elections process is kept fair and transparent.
A meeting with representatives of the League of Women Voters of the Pensacola Bay Area further highlighted efforts to engage citizens in the democratic process, this time at the grassroots level. Thank you to Rosemary Hayes-Thomas, Paula Montgomery, and Charlyle Parrish for sharing the work of your organization with our international guests.
Next, the group received interesting insight into the role of the media in keeping local government accountable when they met with Independent News Publisher Rick Outzen. They then focused on the work of the Institute for Women in Politics of Northwest Florida where Diane Mack gave insight to how her organization encourages women to run for office.
The IVLP visitors also spent time at Gulf Breeze City Hall where Assistant to the Mayor Nathan Ford shared information about their successful Youth in Government Symposium. The group was intrigued by how the program encourages high school students to learn about the local government.
Florida Department of Environmental Protection (FDEP) Environmental Specialist Zach Schang and Intern Sarah Beth spoke to the group about FDEP restoration work and how they rely on the volunteer support of community members to implement their projects. The group tried their hand at some volunteering themselves through a project to bag oyster shells in order to create more habitats for oysters that help clean and filter water in the bay and bayous.
Marissa Pensirikul, president of the University of West Florida's Student Environmental Action Society, or SEAS, met with the group to talk about how this student-led organization promotes environmental awareness through advocacy and volunteerism in the community.
Our international visitors also had ample opportunity for hospitality and cultural discovery. They enjoyed dinners in the home of locals through the Dinner with Delegates program. Thank you to Suzanne and Randle Carpenter, Allan and Andrea Ford, Rachel Hendrix, Diane Peterson, and Liz and Basil Yelverton for the warm hospitality extended to the visitors. They also enjoyed an evening concert as part of the Bands on the Beach series and enjoyed beautiful views of the bay and its wildlife during a dolphin cruise.
During their time in Pensacola, the group was in the capable hands of volunteer Susan Senkarik who guided them throughout their project.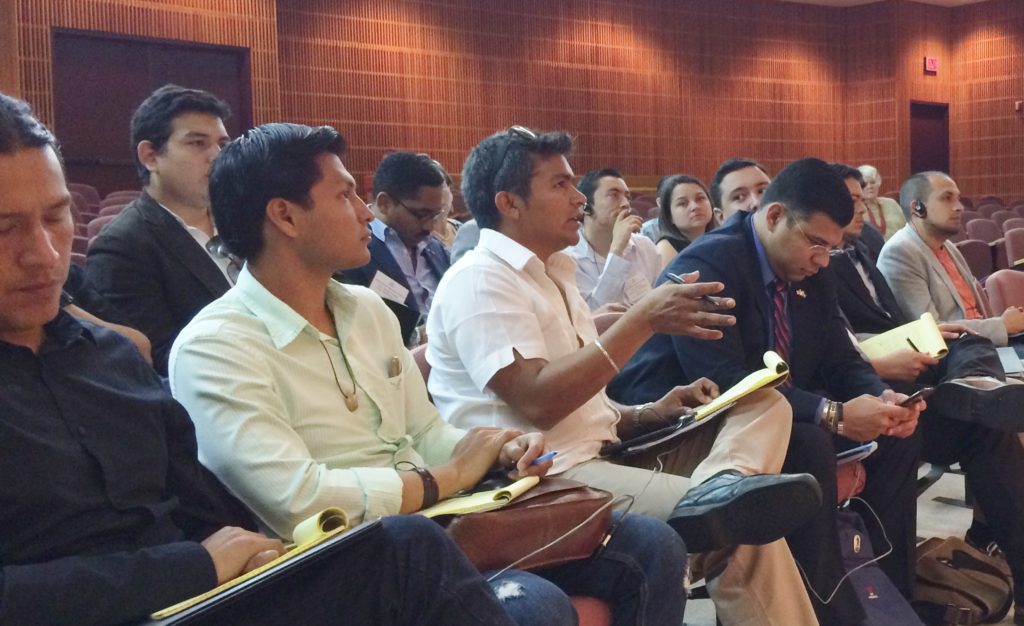 In the chambers at Pensacola City Hall