In early September 2016, the Gulf Coast Citizen Diplomacy Council hosted a group of five Pakistani professionals participating in an International Visitor Leadership Program (IVLP) project focused on best practices in reducing drug demand.
Pensacola was the group's last stop, and they enjoyed a full day of professional programming as well as a final national project overview followed by a cultural excursion.
The group kicked off its time in Pensacola with a City Hall welcome and local government overview given by Pensacola City Council President Charles Bare.
At Pathways for Change, the visitors delved into programs in place to combat addiction and improve life for families and children affected by substance abuse. Executive Director Connie Bookman led an initial discussion at the organization's Family Center before leading the visitors on a tour of the Clinton Cox Residence and the Men's Residential Treatment Program.
Denise Manassa and Linda York Wilson of the Community Drug and Alcohol Council (CDAC) met with the group to discuss their organization's substance abuse education classes and initiatives that raise awareness of the issue among community members and healthcare professionals.
On the group's last professional day in Pensacola, they were joined by the U.S. Department of State IVLP program officer responsible for the project as well as the program officer from the Institute for International Education, the nonprofit handling the national logistics and programmatic planning. The visitors shared candid feedback about their IVLP experience program and how it will help them further their goals in drug demand reduction in Pakistan.
Following the official close of the project after their evaluation session, the group was delighted with the opportunity to see more of Pensacola's natural scenery during an evening dolphin cruise.
The Gulf Coast Citizen Diplomacy Council thanks all who participated in this IVLP project and gave their time and energy to guarantee its success.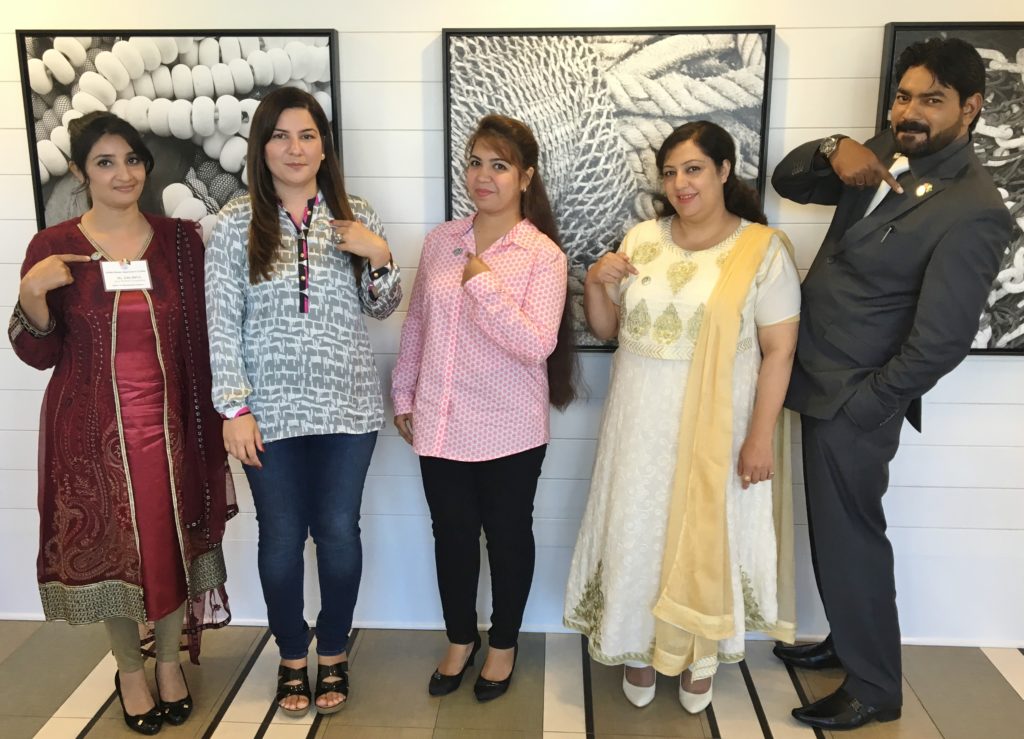 Modeling their new International Visitor Leadership Program lapel pins