In July 2015, the Gulf Coast Citizen Diplomacy Council and several local families hosted Mexican youth who had traveled to the United States on Jóvenes en Acción (Youth in Action), a U.S. Department of State leadership exchange. Program Coordinator Matthew Rizzo was one of two Americans selected to attend the group's reunion in Mexico City in April 2016:
This spring, I traveled to Mexico City to attend the final reunion conference of the 2015 Jóvenes en Acción (Youth in Action) Youth Leadership exchange program.  This opportunity was afforded to me by World Learning, a D.C.-based nonprofit organization that was one of the Gulf Coast Citizen Diplomacy Council's partners in implementing this U.S. Department of State short-term youth exchange in the summer of 2015.
I was excited by the opportunity to engage again with the Mexican teens that I shared time with in Pensacola the previous summer.  These students spent a month in the United States, including 12 days in Pensacola, developing the skills and perspectives to implement year-long volunteer projects addressing specific community issues upon their return to Mexico.  I was fortunate to spend most of those 12 days engaging directly with the teens as I led them through a local program emphasizing not only volunteerism but also civic participation, human rights, and leadership.
Attending this reunion conference nine months later was a wonderful chance to re-engage with my former young charges and get insight into their volunteer projects as well as the impact of the Pensacola program on them.  During the conference, the Mexican teens reflected on their exchange experience in the United States and revisited the lessons learned and the challenges overcome during the last year.
At least two participants shared that they were especially moved by time spent in Pensacola with Grace McCaffery, a leader in the local Hispanic community and the founder of bilingual newspaper La Costa Latina.  Her story of perseverance in the face of many life challenges and her willingness to always help others inspired the students to look at their own potential to serve their communities with a different perspective.
At the conference, the Mexican teens also gave presentations highlighting their volunteer projects that tackled topics as varied as relationship violence and high school dropout rates.   These teens persevered through obstacles including recalcitrant school administrators who refused to provide space for activities, fundraising challenges, and speaker cancelations.  They came up with creative solutions to continue with their projects and learned in the process they were more resilient than they thought.  I was, in turn, inspired by them.
Through my attendance at the conference, I gained a better understanding of what the Jóvenes en Acción program looks like after the students return home, and I was able to glean details of how our Pensacola program helped to prepare and motivate students to create positive change in their communities.  I can't wait to continue this work with the next group of "jóvenes" due to arrive in Pensacola in July 2016.
Matthew Rizzo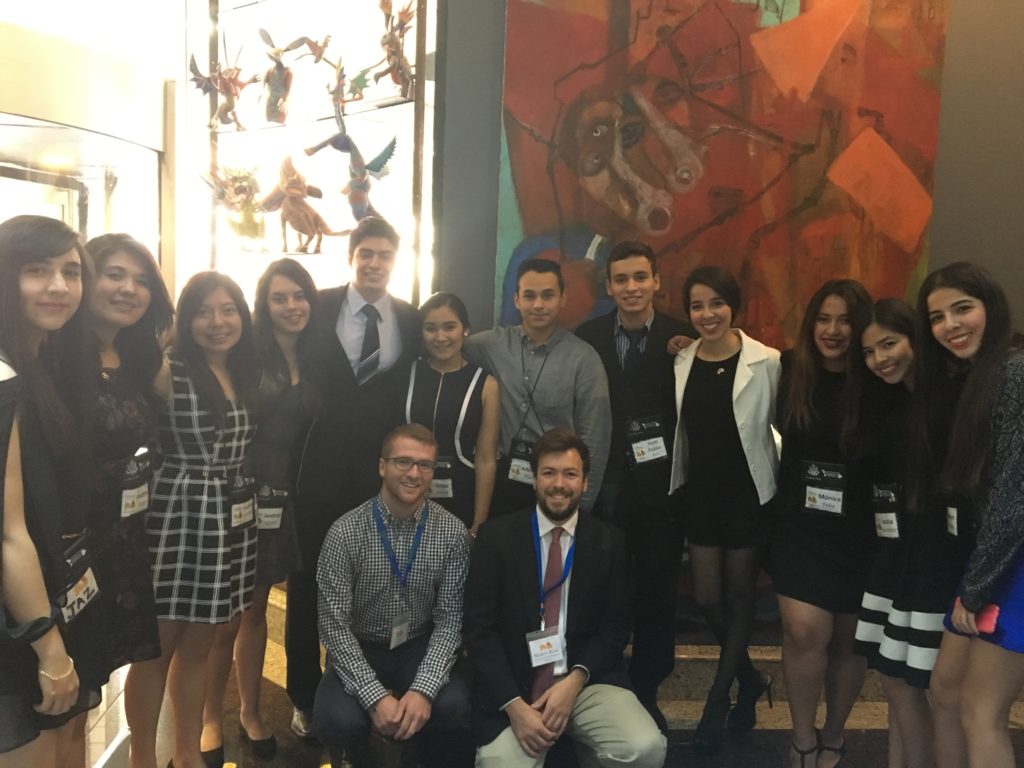 Matthew and most of "Team Pensacola" in Mexico City, April 2016