In early May, the Gulf Coast Citizen Diplomacy Council (GCCDC) hosted a group of seven environmental activists and youth workers from Algeria and Morocco as part of a U.S. Department of State International Visitor Leadership Program (IVLP) project focusing on "Galvanizing Youth for Environmental Protection."  The visitors were interested in meeting and speaking with American colleagues who work with young people to inspire them to care about the environment.
The group arrived in Pensacola to one of the best possible welcomes.  They attended the Gulf Coast Citizen Diplomacy Council's spring fundraiser, the Mint Jubilee.  Local members and international visitors alike enjoyed the opportunity to meet and get to know each other.
The professional program in Pensacola kicked off the next day when the North Africans visited Pensacola City Hall for a welcome and orientation by City Council President Charles Bare.  The visitors were surprised and delighted when he presented them with certificates of honorary citizenship to the city at the conclusion of their meeting.
This IVLP group's time in Pensacola included a variety of opportunities to engage with locals including professional meetings focusing on environmental topics, cultural excursions, and discussion sessions.
The group had a great experience meeting Florida Department of Environmental Protection (FDEP) Specialist Zachary Schang.  They first met with him for a discussion on the use of student volunteers as part of FDEP restoration projects and then visited to two of these project sites.  The second meeting with Zach brought the North African group together with a Pine Forest High School class which was collaborating with FDEP on the "Grasses to Classes" initiative.
The visitors met with Elizabeth Gilbert, a University of West Florida (UWF) student and vice president of the UWF Student Environmental Action Society, for a discussion about this student organization and its involvement in environmental protection advocacy and volunteering.  The group engaged with another youth-focused organization when they visited the Navarre Beach Marine Science Station and met with Executive Director Charlene Mauro.  Ms. Mauro led the visitors on a tour of the facility, and they were able to observe students participating in hands-on environmental science activities.
During a meeting with Escambia County 4-H Program Coordinator Jenny Savely, the North African group discussed youth leadership and volunteering as well as environmentally-focused 4-H programs.  At Gulf Islands National Seashore (GINS), Chief of Resource Education Susan Teel and student intern Portia Caldwell gave the visitors an overview of GINS' opportunities for young people to volunteer and work in the park on environmental projects alongside rangers and scientists.
A conversation with locals over coffee at Seville Quarter introduced the visitors to a variety of perspectives on environmental topics and current events.  Dr. Allan Ford, Bob Moulton, Ben Posey, and John Toole attended.
The visitors also got hands-on when they partnered with Ocean Hour as part of that group's weekly shoreline cleanup.  Local Ocean Hour founder Sharon Gincauskas spoke to the group about their volunteer efforts and how they engage youth groups through volunteerism.
In addition to their professional program, the visitors had some wonderful hospitality experiences.  GCCDC member John Toole hosted them for a Saturday afternoon picnic and boating excursion in Escambia Bay, and members Leigh and Kent DeSantis and Brian and Vickie Barlow welcomed the visitors to their homes for dinner.
One of the international visitors wrote a piece for the Pensacola News Journal about his impressions of the area and also uploaded a video about their time at the Mint Jubilee.
The Gulf Coast Citizen Diplomacy Council thanks everyone whose time and effort resulted in a wonderful local program and in another successful chapter in the ongoing story of citizen diplomacy in northwest Florida.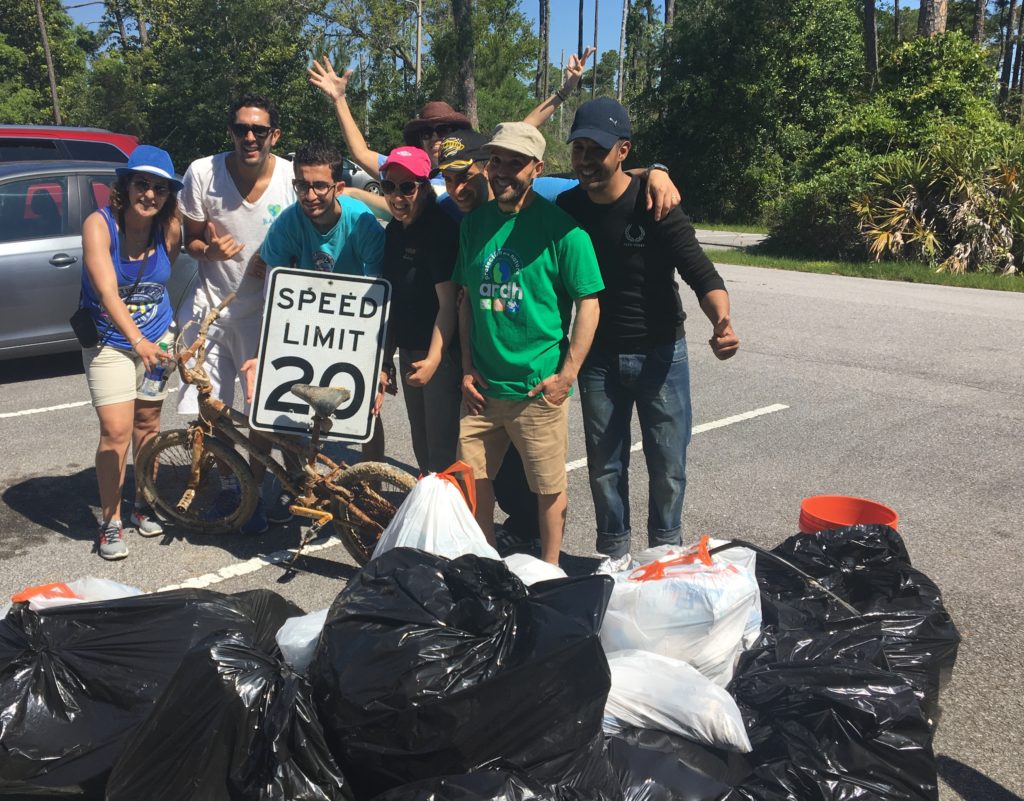 The great haul:  Look at all the trash Ocean Hour & the visitors collected!